We Love Success Stories - Do you have one? They don't have to be just from TJO . . . a success is a success!
Kelly--
I have thought of you alot over the past few weeks.
Raleigh is the best.
He is sweet and cute and smart. And by the way--only 9 months old. I wish you could see him with our 18 year old cat, Buddy.
Picture Buddy--frail and, as Alan says, 'pitiful'.
Buddy doesn't notice Raleigh (or care/fear).
he walks up to Raleigh's food and water bowls and helps himself.
Sometimes Raleigh joins him.
It is not unusual to see both of them eating or drinking at the same time.
Raleigh seems to know not to bother or chase Buddy.
I wish the same could be said of Raleigh with our young cat, Rascals. You see, Rascals doesn't realize that all he has to do is stand his ground and hiss and swat... and Raleigh would be in the next county! Instead, Rascals turns and runs, and off goes Raleigh. Of course, Raleigh gets corrected and sometimes does time out in the crate. He is 100% better than a few weeks ago. In fact, they both are.

NEWS FLASH_______
Raleigh was neutered yesterday. No problems (easy for me to say!). Rested most of today.The vet staff loved him and thanked me for sharing him...He is a sweetie.

He has adapted to his crate, where he spends time when we are not home. My 91 year old Dad adores him and has a stash of dog biscuits beside his recliner for our boy.

He has shown some aggression--to neighbor's dogs (who often come out not on leash, barking). He also barks at the neighbor's horse.He will adjust and has had many invitations to socialize.
He seems to do better with females. We'll see how he does
post-castration.

Raleigh continues to make progress with sit/heel/down/stay/off. He definitely wants to please and is easily rewarded (with pats and praise, not to mention treats). He loves the pasture and trees--has marked most, some hundreds of times!

He definitely is a retriever, with nose to the ground and pointing postures.

His coat is as shiny as can be. He loves to be combed and brushed and have his belly scrathed. Alan loves the itch spot on his belly......as all kids do.

He did end up needing antibiotics right away for a skin condition (scrotum) and kennel cough. The vet suggested adding olive oil to his dry food for dry skin. Raleigh prefers it without but tolerates. Any suggestions for some alternative?

He has quite a following in our town.
We are very pleased to have been able to save him/ adopt him from TJ O'Connor. He has fit into our lives perfectly.

I really can't say enough about your patience and support as we sought to adopt a dog. You never gave up on us. That meant alot to me.

Thanks,
Deb

Hi ,

I just wanted to send you a quick email to let you
know just how delighted we are with our new "Lilly".

The ride back to her new home this past Saturday was
very exciting for the whole family.

Lilly is the name we gave our new little black lab.
She is just perfect.
She plays nicely with the kids and is very friendly.
All she wants to do is be with all of us.
I had to laugh Saturday evening, (the night we
brought her home), here she
is lying on her new fluffy dog bed chewing happily
on a raw-hide bone. I wondered what she might be thinking. Did she ever magine when she woke up
that morning at the kennel that by days end she
would be miles away on a pillow chewing a bone?

I assure you she will be loved and very well cared
for. We have a vet appointment scheduled for next week.

We bathed her on Sunday and she shinned up like a
pretty penny.

Thank you so much for providing us with such a gift.

Jeff and Family and Lilly too, of course!

Hello! We did adopt from TJO a 7month or so old lab/shep black pup. We named him Shilo, and have had him a week or so. He is just the sweetest dog- a super personality. He has more pup in him than we had bargained for. We have 3 kids 5 and under, so it's a lot for them to absorb. Despite the tackling (which is getting less as he is responding wonderfully to training) they plead with us to keep him, which we assure them we will. Thanks for all your work. I'm sure you can call this a "success"!
-Rebeccah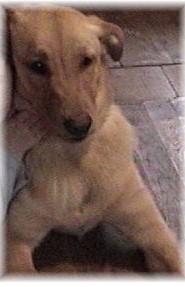 Buddy
Hi Kelly, 3/18/02
Today my family went down and found a dog that we think fit
right in with us, my kids love him. He is a beautiful lab Shepard mix about 1 year old. I go back Wednesday to get him and bring him home. I will keep you up to day and let you know how things are going. Thanks for all your help and support.
Kim

Hi Kelly, 3/25/02
The dog we adopted is a Shep. mix but he is more lab retriever mix. he is a great dog, calm, very friendly, and is already comfortable with us. I have 3 kids and they all love him. The kids named the dog Buddy, he follows us around and just loves lots of attention. My cat Ruth is not to happy about him but is getting better and I know the two will be friends. Buddy has no aggression to the cat. We looked for a long time for the perfect dog for our family and we found him. I really believe that the wait was worth it. I enclosed a picture of Buddy.
Thanks for all your help.
Kim