Please Spay and Neuter your pets. We need to help the pet overpopulation problem in the US and the world. Don't be part of that problem, Spay and Neuter today! Thank You!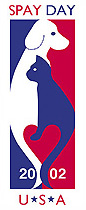 Spay Day 2002 - 2/26/02
Spay and Neutering your animals have many, many benefits! Thanks to The Doris Day Animal Foundation and Spay Day 2002, they have set up a question and answer to help ease your mind about spaying and neutering your animals. To Visit the site please click here:
http://www.ddaf.org/SpayDay/spayneuterq&a.html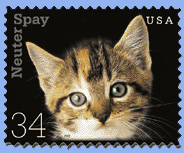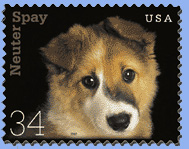 "STAMP OUT" COMPANION ANIMAL OVERPOPULATION
It's official! The United States Postal Service will be issuing two Spay/Neuter Your Pet Stamps (one with a cat and one with a dog) as part of its U.S. Stamp Program for 2002.
The fabulous news about the twin Spay/Neuter stamps was confirmed on August 22nd in a phone call from Mr. David Failor, Manager for the Postal Service's Community Relations office, to Prevent a Litter Coalition (PaLC) STAMP OUT project coordinator Hope Tarr. PaLC will be working closely with Mr. Failor and the USPS in the coming weeks and throughout the year to plan promotional efforts both for the October unveiling as the larger scale launch celebration to take place in conjunction with the stamps' on-sale date in post offices nationwide.
Since September 1997, more than 210 veterinary, humane, and citizens' groups have joined the campaign (spearheaded by the Prevent a Litter Coalition's STAMP OUT) in petitioning the U.S. Postal Service to issue STOP PET OVERPOPULATION, SPAY/NEUTER YOUR PET as a commemorative stamp. (The average print release of a commemorative stamp is 100 MILLION). USPS has received more than 200,000 such requests from politicians, celebrities, and other animal-lovers across the country and abroad. The stamps will go on sale in September 2002!
Congratulations to PaLC and all volunteers and activists who worked so hard (and so long) for this victory.
For more information and the latest news on the STAMP OUT campaign, visit PaLC's website.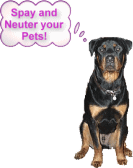 Visit Spay USA for Valuable information. SpayUSA, a program of The Pet Savers Foundation, is a nationwide network and referral service for affordable spay/neuter services.
Our goal is to reduce the number of unwanted cats and dogs and to stop their suffering. Anyone who needs assistance finding low-cost spay/neuter services can benefit from SpayUSA!
You can Now register online at Spay USA OR call them at 1-800-248-SPAY. Phone counselors are available Monday-Friday from 9 am to 4:30 pm, EST.